THE BULLET YOU HAVEN'T FIRED YET
If you shopped online this past Christmas you probably felt pretty good about missing all the crowds, parking and germs at the mall. The online companies that sold to you are also feeling good about the reduced overhead and retail labor. Strangely, there are still many companies that don't provide their customers the luxury of being able to buy their products online. If the thought of selling things while you're sleeping isn't exciting, how about a tactical way of driving substantial new business both B2C and B2B through Google's answer to Amazon, called Google Shopping.
What Is It?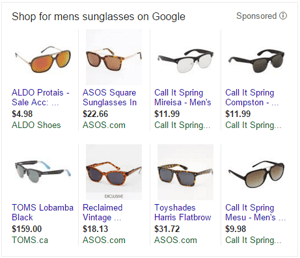 If you don't know what Google Shopping is, it's pretty simple and in fact, you've already seen it. When you search for something like "men's sunglasses" there are a pictures and prices of sunglasses that you can click on, and it will take you right to the shopping cart of the vendor. Same thing for B2B for something like office phones.
Does it Work?
Wow, does it ever. In fact, we have found it more effective than almost any other paid digital marketing platform. Better than Adwords, Facebook, YouTube,Twitter, LinkedIn, etc… This isn't us just singing Google's praises, this is something that actually works and does so consistently.
For Example: We have a client that started 8 months ago and there was some skepticism on their part as they are a B2B company and sell a complex product for sometimes a high dollar amount. Most of their products sell for around $3,000. When they first started out they had approximately 50 products on the platform. They started selling and always sold profitably. Fast forward 8 months and now they're selling almost 100 products a month, and some of those products are close to $10,000 each with an average cost of about $150 per sale.
Who Uses It?
Everyone that's enlightened and wants to get their product and a picture of it on Page 1, Position 1 on Google. Most companies are still trying to accomplish this with SEO but SEO IS Dead, and Google wants to keep it that way because they don't get paid for it. Google Shopping is something they do get paid for and they are betting big on it because again, they are afraid that Amazon is going to run away with their searches.
What does it cost?
It's all about whatever budget you set. We always suggest you test with something small to understand the market and your targeting. Once the model has been proved out and optimized, then start pushing your budget up slowly. There is a considerable amount of adjusting and optimizing that needs to take place during this process to maximize your exposure and minimize your costs.
How Do I Get Rolling With Google Shopping?
The main requirement is having an E-commerce shopping cart. If you don't have a shopping cart, something as easy as Shopify, Big Commerce or 3D Cart can be used to get you up and running. Once you have that, Google's shopping module gets configured to the cart and then it is all about setting the budgets and keywords correctly. In addition, shopping ads can now get extended to YouTube videos.
What are we waiting for?
Everyone is concerned about spending money, especially when cost cutting is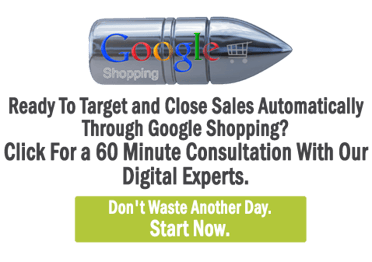 everywhere. However, if you took the salary of an average salesperson and matched it up against Google's shopping platform, you might just find it one of the easier decisions you'll have to make. Lastly, you're now aware if you weren't before, but after this there are no excuses. Google Shopping is an absolute bullet you need to load up and fire...before your competition takes the first shot!